Where the Mountains Meet the Sea
Nestled in the Sirinat National Park, Naithonburi Beach Resort is a one-of-a-kind hideaway where the mountains meet the sea. With an extensive area of over 20 Rai and a lush tropical forest facing a long stretch of secluded beach nearby, you can relish in an impressive array of recreational options that our all-inclusive resort has to offer.
You may wake up to outdoor yoga against the mountain backdrop, spend an afternoon indulging in a massage, and get lost within the scenic sunset – all on the same day. Whether you have a soft spot for the mountains or feel that nothing beats the beach, this is an ideal place to soak up the best of both worlds.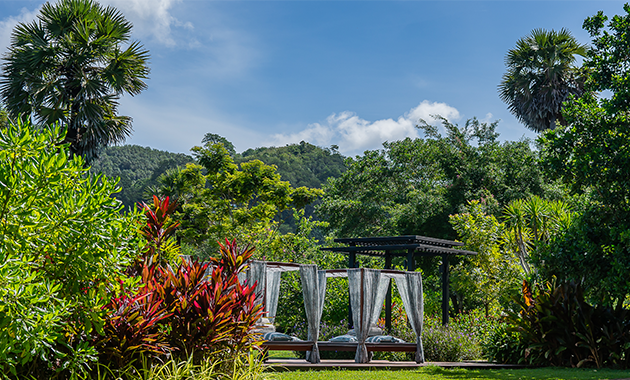 THE NAME "NAITHONBURI"
The Great Origin
By sharing our story, we take you back in time when the resort was a no man's land behind the mountain, and getting here required a several-day journey through the hills. When the first group of settlers and developers arrived, they were amazed by the abundance of freshwater and fertile soil, in which everything grew effortlessly.
This phenomenon was the reason behind the name "Naithonburi", which means the water-abundant town, and inspired us to take natural preservation seriously. From the get-go, we placed an eco-responsible approach at the heart of our business, and worked toward ensuring that our resort minimizes its environmental impact on the surrounding nature.
The entire compound is consciously designed and operated with the deepest respect to the environment. Throughout the resort, the wooden interior, towering palm trees, and over 100 species of rare flora, combine to provide you with a "back to the nature" escape, in which you can retreat, recharge, and reconnect with the power of nature that reinvigorates your soul.
FEELING AT HOME
The Exceptional Hospitality
The sense of feeling at home is considered luxury when it comes to hospitality. As such, we do our best to create an atmosphere that enhances our guests' memorable experiences. Although you might be thousands of miles away from your own comfy bed, our team of professional and friendly staff will make sure that your every need is taken care of, and you feel as comfortable as possible.
As it has always been, the safety and well-being of our valued guests and team members remains our number one priority. You shall be relieved to hear that we have actively taken our hygiene standard to the next level, in order to assure our guests of an even cleaner and safer stay at all times.
One unhappy guest is one too many for us, and it is our ultimate pleasure to do whatever we can for your perfect vacation. We genuinely hope you will find your home away from home at Naithonburi Beach Resort so unforgettable that you will always want to visit time and again.
testimonials
What Customer Say
"Lovely facilities in a good location, the main pool is superb with a sandy beach - very warm and spotlessly clean. Rooms were big and very comfortable"
Love It !
"With the Covid-19 situation going on, the hotel has managed to do their best to provide buffet breakfast for guests(with social distancing and lessen mutual touching points). I found this was very impressive"
Great service mind hotel
"Great hotel with superp facilities and very entertaining swimming pool! Kids love it big time!!!"
Mountain Resort at the Beach
" Mountain Resort at the Beach. Amazing facility. Feels like a mountain resort yet it is a stones throw from the beach. Two gigantic pools (one with a man made sandy beach). The gym is comparable to any stand alone gym in the world and the game center is first class. We will definitely be going back this summer"